"You are the salt of the earth. But if the salt loses its savor, how can it be made salty again? It is no longer good for anything, except to be thrown out and trampled by men." — Matthew 5:13.
The rage and hatred being exhibited in America right now isn't something that just suddenly sprang up and pushed itself into our society by its own power. If our country was filled to the brim with the Gospel of Jesus Christ and a vibrant Church, there would be no massive moral void for these anarchists and nihilists to expand their territory; nor would there exist the spiritual oxygen to fuel their fiery bitterness and spark their Marxist revolution. No, these angry agitators easily found their stronghold in the vacuum being created in the West by the retreat of Christianity and in some areas, the complete collapse of Christian influence. What we are witnessing right now is a spiritual crisis coming to a head in America.
How can this be, you might ask. How can a radical sociopolitical movement led by Antifa protesters and the Black Lives Matter organization find its power within the abandoned territory of a failing Christianity? Isn't there a clear difference between issues of Church and State, or theology and democracy? The answer may somewhat surprise you: This isn't primarily a political uprising we are seeing, but a new secular religion spreading an alternative gospel of socialist ideology in opposition to the traditional belief systems that sustained America as "one nation under God" for over 200 years. The seditious words and violent deeds of these social justice zealots show all the hallmarks of a religious fervor intent on establishing their one true "faith." And those who stand in the way of their moral crusade will either bend the knee or be destroyed.
"He who has Christ has all he needs and needs no more." — Jonathan Edwards
ONCE UPON A TIME there were four Inklings: learned men of letters who, despite their professions of faith, sought after a secret alchemy to transform the ancient stones of paganism into spiritual bread. For although they called themselves Christians, they did not wish to feed upon the perfect sustenance of God's word alone through the teaching of the Holy Spirit. Seeking to be wise, they became foolish, and exchanged the pure light of God for the mystical shadows of old, dead myths. They had forgotten that if anyone is in Christ, he is a new creation. The old has passed away; behold, the new has come!
Long ago, centuries before the time of the Inklings, great men of God foresaw this kind of folly. They knew that some, even after tasting the goodness of the word of God, would return like dogs to their vomit (2 Peter 2:22; Hebrews 6:5). The Apostle Paul warned that some would depart from the faith by devoting themselves to deceitful spirits and teachings of demons (1 Timothy 4:1). And he pleaded with them to not be taken captive by philosophy and empty deception, according to human tradition, according to the elemental spirits of the world, and not according to Christ (Colossians 2:8).
Sadly, it appears, the four Inklings did not heed these prophetic warnings. They did not listen to the instruction of the Apostle Peter to "not be conformed to the former lusts which were yours in ignorance" (1 Peter 1:13). Instead, these bright but misguided men, captivated by their old spiritual cravings, turned back to their precious myths and fairy tales from "once upon a time." And in doing so, they routinely exchanged the truth of God for a lie, and served the creature rather than the Creator.
Indeed, like Paul once asked the Galatians, we too might pose this heartfelt question: "O foolish Inklings, who has bewitched you?!"
"For, lo, I will command, and I will sift the house of Israel among all nations, like as corn is sifted in a sieve, yet shall not the least grain fall upon the earth."— Amos 9:9
Every sifting comes by divine command and permission. Satan must ask leave before he can lay a finger upon Job. Nay, more, in some sense our siftings are directly the work of heaven, for the text says, "I will sift the house of Israel."
Satan, like a lowly serf, may hold the sieve, hoping to destroy the corn; but the overruling Hand of the Master is accomplishing the purity of the grain by the very process which the enemy intended to be destructive. To the precious, but much-sifted corn of the Lord's floor: be comforted by the blessed fact that the Lord directs both threshing-stick and sieve to His own glory, and to your eternal profit.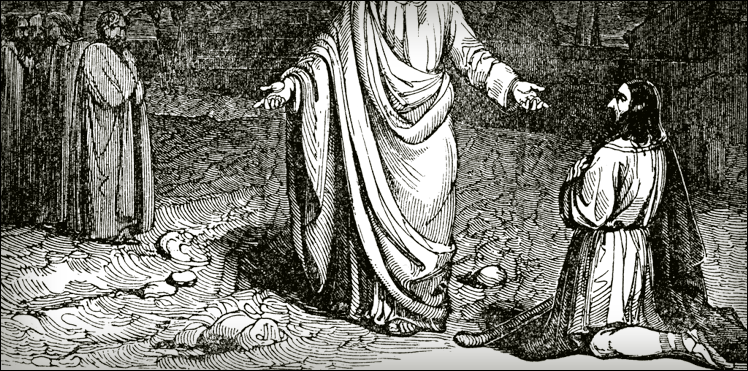 Now large crowds were going along with Jesus; and He turned and said to them, "If anyone comes to Me, and does not hate his own father and mother and wife and children and brothers and sisters, yes, and even his own life, he cannot be My disciple. Whoever does not carry his own cross and come after Me cannot be My disciple. For which one of you, when he wants to build a tower, does not first sit down and calculate the cost to see if he has enough to complete it? Otherwise, when he has laid a foundation and is not able to finish, all who observe it begin to ridicule him, saying, 'This man began to build and was not able to finish.' Or what king, when he sets out to meet another king in battle, will not first sit down and consider whether he is strong enough with ten thousand men to encounter the one coming against him with twenty thousand? Or else, while the other is still far away, he sends a delegation and asks for terms of peace. So then, none of you can be My disciple who does not give up all his own possessions."

"Therefore, salt is good; but if even salt has become tasteless, with what will it be seasoned? It is useless either for the soil or for the manure pile; it is thrown out. He who has ears to hear, let him hear" (Luke 14:25-35).

You need to weigh in on the cost factor and count the costs of being a disciple of Jesus Christ. It will cost you popularity. It will cost you promotion perhaps at times. It will cost you an easy life. You will have to discipline yourself. You will have to buffet your body. You will have to say "No" to temptation. You will have to say "No" to this world. You will have to break with the crowd. You will have to be willing to stand alone for Christ. You will have to be willing to walk to the beat of a different drummer and to step out of the crowd even if no one follows after Jesus Christ. You will have to be willing to stand even if you were the only person in the world for Jesus Christ. That's the cost factor.
The Illustrated Sandwich…