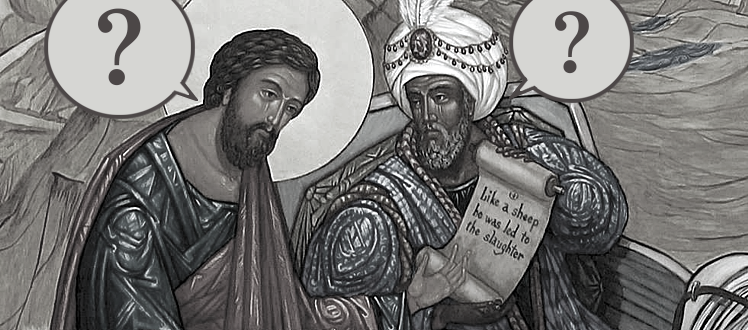 Once there was a man named Philippe. He was a spiritual guide in an emerging community. One day he decided to go on a journey. So, he did. As he was walking along the road, focusing on the journey and not the destination, he found himself alongside the chariot of an African official. The man in the chariot was reading from a parchment scroll. He was reading aloud, so Philippe was able to overhear what the man read…
read more
You adulterous people! Do you not know that friendship with the world is enmity with God? Therefore whoever wishes to be a friend of the world makes himself an enemy of God. Or do you suppose it is to no purpose that the Scripture says, "He yearns jealously over the spirit that he has made to dwell in us"? — James 4:4-5
Friendship with the world means forfeiture of fellowship with God. You can have it one way or the other, but you can't have it both. God will brook no rival in our hearts. In James 4:4, James says that worldliness is really spiritual adultery if you try to be married to Christ and then be joined to another at the same time. Worldliness is spiritual adultery, and the good life and true wisdom cannot be experienced by those who are worldly and selfish.
James 4:5 gives us a summation of the teaching of Scripture, from the beginning to the end. God's Spirit indwells us and wants total occupation. He doesn't want some of you; He wants all of you. I don't mean that collectively; I mean that individually. He doesn't want some of you individually; He wants all of you individually. His Spirit will brook no rival. This is seen from the very beginning of God's salvation, back in Genesis 3:15 when God pronounces His curse against Satan and then brings His judgment to Eve. He blesses her in the midst of the warning judgments by saying, "I will put enmity between you and the serpent, between your seed and his seed." In other words, I will put enmity between you and the enemy of your soul.
And so God has established an enmity against the world and against worldliness in His peoples' hearts. And He will brook no rival because He wants all of you, individually. He wants the totality of your love and loyalty and service. And James simply states categorically that friendship with the world is hostility to God, and that if we want to make ourselves to be friends of the world, then we will be enemies of God. It's one way or the other. And my friends, living in a culture which is prosperous, in which we play a significant role, can work on our hearts over time to make us desire the wrong source of satisfaction. It's the great, great challenge that we face here. Who do you love? What do you love? Where is your satisfaction? What's the chief purpose of your life? The honest answers, the quiet answers in your own home and in your own heart to those questions will tell you much about what you need.
If the answer is not God through Jesus Christ, to the question of, "Whom do you love? What do you want? What's your great satisfaction?" then the only hope is not to look within, because the answers are not found within; they're found without, they're found with God in Christ. May God grant us all to look to Him and to walk with Him.
— Excerpt from "Worldliness in the Church" sermon by J. Ligon Duncan
In a musical instrument there are some keys that must be touched in order to evoke its fullest melodies; God is a wonderful organist who knows just what heart-chord to strike.
In the Black Forest of Germany, a baron built a castle with two lofty towers. From one tower to the other he stretched several wires, which in calm weather were motionless and silent. When the wind began to blow, the wires began to play like an Eolian harp in the window. As the wind rose into a fierce gale, the old baron sat in his castle and heard his mighty hurricane-harp playing grandly over the battlements.
So while the weather is calm and the skies clear, a great many of the emotions of a Christian's heart are silent. As soon as the wind of adversity smites the chords, the heart begins to play; and when God sends a hurricane of terrible trial, you will hear strains of submission and faith, and even of sublime confidence and holy exultation which could never have been heard in the calm hours of prosperity.
Oh, brethren, let the winds smite us, if they only make the spices flow; let us not shrink from the deepest trial, if at midnight we can only sing praises to God.
— From God's Light on Dark Clouds by Theodore Cuyler, 1882
Matthew Henry wrote, "Christ's tender sympathy with these afflicted friends, appeared by the troubles of his spirit. In all the afflictions of believers he is afflicted. His concern for them was shown by his kind inquiry after the remains of his deceased friend. Being found in fashion as a man, he acts in the way and manner of the sons of men. It was shown by his tears." As God's word foretold in Isaiah 53:3, "He is despised and rejected of men; a man of sorrows, and acquainted with grief…"